AnsQuick

: a set of online calculators for quick estimating of drawdown and other parameters that are useful for

pumping tests planning

AnsQuick is indispensable for the pumping tests planning. The module contains a set of templates for standard hydrogeological conditions. The templates facilitate quick assessment of drawdown in an observation well during a pumping test. This allowsdetermination of the optimal discharge rate and the distance between the wells during pumping tests so that as to obtain the required drawdown for a specified time.
AnsQuick is a simplified versions of AnsTest and AmWells. It does not have the advanced graphical tools of AmWells or interpretation capabilities of AnsTest but it allows quick assesment of preliminary data. Module is designed for the Windows operating system.
---
The calculator contains the parameters that are commonly used by hydrogeologist:
– Radius of influence of pumping test
– Radius of influence of slug-test
– Transmissivity evaluation (using specific discharge rate)
– Wellbore storage and Wellbore skin
– Leakage factor
– Compressibility
– Retardation coefficient.
---
Convertation is available for the following parametres:
– Hydraulic conductivity
– Transmissivity
– Permeability
– Rate
– Pressure
– Density
– Viscosity
– Temperature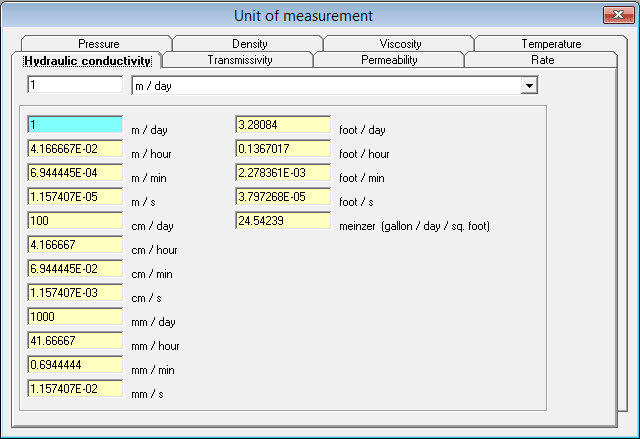 ---
Special functions calculator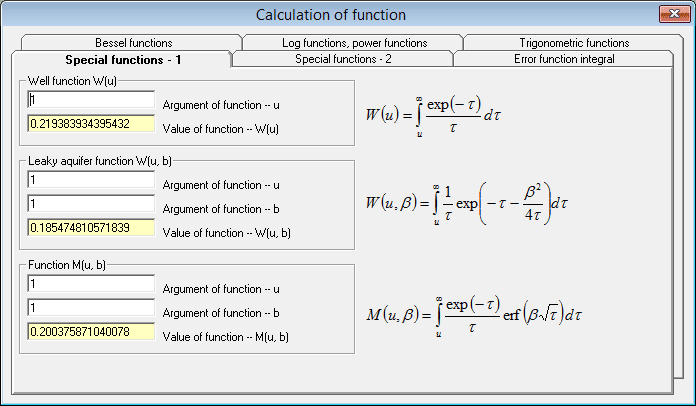 Calculations of special mathematical functions that are commonly used by hydrogeologist:
– Well function, W(u)
– Leaky aquifer function, W(u, b)
– Function of Bolton, Fb (u, b)
– Well function for a well of finite diameter , F (u, b)
– Function of slug test, Fs (u, b)
– Error function integral
– Bessel functions and other
---
Base of hydraulic properties
Utility includes the list of hydraulic properties of aquifers and aquitards that are reported in the literature (based on pumping tests data).
Base is available for the following parametres:
– Hydraulic conductivity
– Storage coefficient
– Specific yield
– Hydraulic diffusivity (confined & unconfined aquifer)
– Porosity