"Wells" tab of "Choose plot" window allows to select wells for which diagnostic graphs will be plotted and aquifer test analyzed. Pumping wells are selected only for Q - t graph plotting and stepwise approximation of variable rate.
Tab is activated from the main menu "Choose > Wells" or function key F2
Tabbed dialog "Choose plot": wells.
Explanatory table
| | |
| --- | --- |
| "Observation wells" list | Select wells from the list of all project observation wells |
| "Pumping wells" list | Select wells from the list of all project pumping wells (is used for the Q - t plot only) |
| "Distance" table | Data table displaying distances from each observation well to each pumping well |
Right mouse click on one of the fields of the well list produces a contextual menu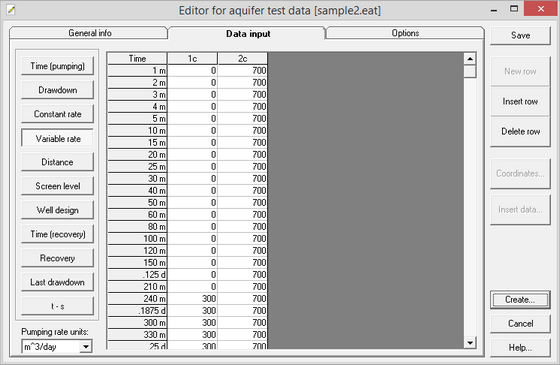 Explanatory table
| | |
| --- | --- |
| Menu "Select all" | Select all wells |
| Menu "Deselect all" | Deselect all wells |
| Menu "Invert" | Select not selected wells and deselect selected wells |