Graphs based on relation (ratio or difference) of drawdowns in two wells provide some support methods for aquifer parameters estimation. To some extent these methods are similar to point methods widely applied before. The difference is that in method considered the parameters are averaged by the entire time interval while in point methods –by one or two observation points only. To apply the method user must choose two observation wells (menu "Choose > Well") and corresponding plot (menu "Choose > Plot").
For two-well graphs inversion of drawdown values is available as well as ordinate axis change (for example s1 / s2 can be replaced by s2 / s1). For inversion use menu "Tools > Inversion") or function keys Shift+F5
Graph of drawdown difference vs lg(t): (s1 - s2) - lg(t) for most conceptual schemes at steady-state represents a horizontal segment to which straight-line method can be applied to estimate transmissivity value (menu "Analysis > Graphical method").

Plot of drawdown difference in two wells: transmissivity estimation by horizontal line.
Plot of drawdown ratio vs lg(t): (s1 / s2) - lg(t). For several conceptual schemes calculated drawdown graph plotted in such coordinates is not dependent of transmissivity within the entire time range, thus allowing parameters matching by hydraulic diffusivity value alone (menu "Analysis > Direct solution").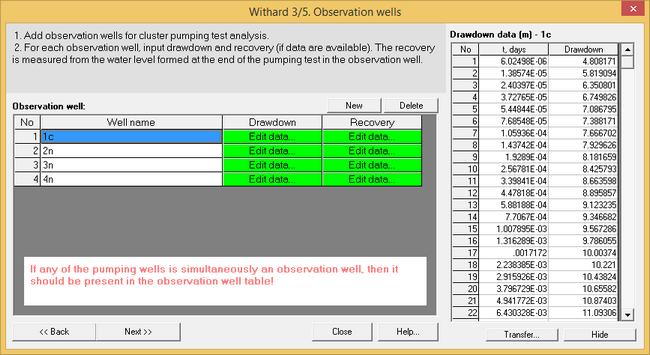 Plot of drawdown ratio in two wells.
The graph based on observation data in two wells is also used for parameter estimation by method of bisecting line.