The wells to be included in the analysis can be selected from the "Wells" tab of the "Choose plot" window. Only the data from the selected wells are plotted and considered for the aquifer test analysis. Selection of pumping wells is only available for the Q - t type of plot and the stepwise approximation of variable rate.
This tab can be accessed directly from the main menu "Choose > Wells" or by pressing the function key F2.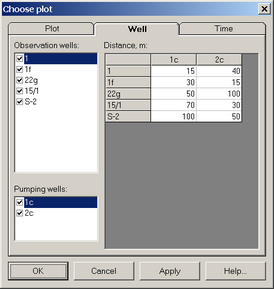 Tabbed dialog "Choose plot": wells.
Explanatory table
| | |
| --- | --- |
| "Observation wells" list | Selects wells from the list of all project observation wells |
| "Pumping wells" list | Selects wells from the list of all project pumping wells (only for the Q - t plot) |
| "Distance" table | Data table displaying distances from each observation well to each pumping well |
Right mouse click on the well list will bring on the context menu

Explanatory table
| | |
| --- | --- |
| Menu "Select all" | Selects all wells |
| Menu "Deselect all" | Deselects all wells |
| Menu "Invert" | Switches selection |