The "Choose plot" window provides options for selecting the type of plot, observation and pumping wells as well as the time (for distance-drawdown plot). These items need to be selected to generate diagnostic plots and perform aquifer test analysis.
The window is activated by selecting "Choose > Plot" from the main menu. It can also be launched by pressing the F5 function key or right clicking on the main plot field.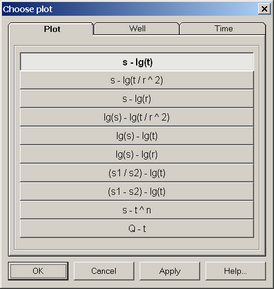 Tabbed dialog "Choose plot".
Explanatory table
| | |
| --- | --- |
| "Plot" tab | Selects the plot for test analysis |
| "Well" tab | Selects the wells for diagnostic plot construction and aquifer test analysis |
| "Time" tab | Selects the time range for diagnostic distance-drawdown plot construction and aquifer test analysis |