Hvorslev's solutions accounting for wellbore construction
Assumptions:
✓aquifer is confined or unconfined, anisotropic, of infinite lateral extent;
✓pumping well is partially penetrating;
✓drawdown is estimated in the pumping well.
a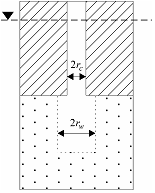 b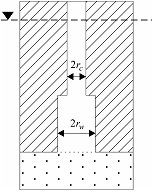 c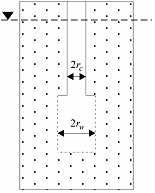 d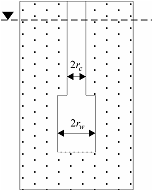 Possible wellbore positions in aquifer for slug tests analysis by Hvorslev's method.
a – partially penetrating well at the top of confined aquifer; b – well placed in aquitard and contacting the aquifer only by bottom; c, d – partially penetrating well in unconfined aquifer (case d – only the bottom of the well open).
Methods of analysis and parameters being estimated
Plot

Method

Parameters

Figure

Comments

straight line 1)

a

b

c

d
1) strait line should start from the origin of coordinates.
Hydraulic conductivity on the horizontal plane is estimated at given anisotropy factor on the vertical plane.