ANSDIMAT keeps a log of interpretation activities for every project. This log is available for information in the dialog window "History of analysis" The dialog window can be accessed through menu "File > Aquifer test analysis > History".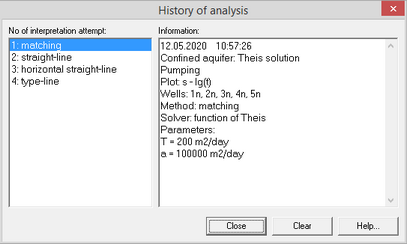 Dialog window "History of analysis".
Explanatory table
| | |
| --- | --- |
| List "No of interpretation attempt" | Sequence number of logged interpretation attempts and brief title of interpretation methods (i.e. "matching", "straight-line", etc.). This list is created automatically when an interpretation attempt is logged. |
| Field "Information" | Brief information about interpretation session: time of analysis, conceptual model, pumping or recovery, plot title, pumping and observation wells, analytical solution used and interpreted parameters |
| Button "Clear" | Deletes list of interpretation attempts and closes the dialog window. The log will restart from the next interpretation attempt |
Graphical methods are logged in History through the menu "View > Fix", by pressing Enter during interpretation or selecting icon "Show parameters" under the main menu.
For "Direct solution" and "Bisecting line" methods, history logs are created after pressing the buttons "OK" or "Apply".