Export the main ANSDIMAT plot into EXCEL can be done using the menu "Tools > Create EXCEL plot" or "Shift+F9". The EXCEL file will open automatically after export is complete.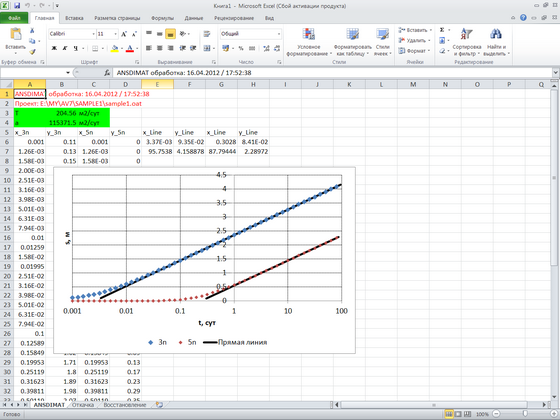 Example of EXCEL worksheet with exported ANSDIMAT plot and time series.
An EXCEL file with ANSDIMAT export has 3 worksheets.
The first worksheet is entitled "ANSDIMAT", it contains the plot and all the data (i.e. time series) that were plotted. The plot includes the legend, it also includes plot and axes titles, if they were present on the original ANSDIMAT plot.
The second and the third worksheets are auxiliary, with titles "Pumping data" and "Recovery data". These worksheets contain the actual pumping and recovery data for all observation wells, when present.