Semi-infinite aquifer with recharge boundary
Assumptions:
✓general assumptions for semi-infinite aquifer;
✓image well is single with the rate equal in value but opposite in sign to that of the pumping well;
✓drawdown develops in three stages: unsteady-state, transitional (initial influence of the boundary) and steady-state.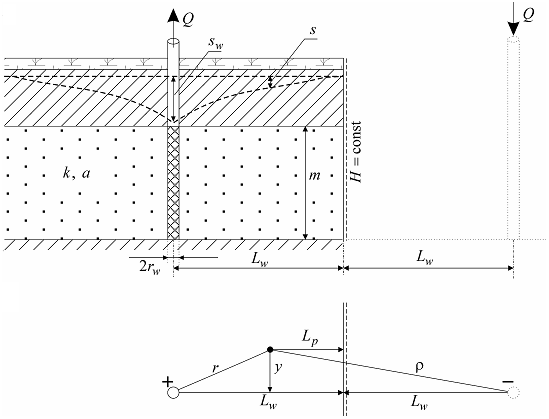 Confined aquifer with one lateral recharge boundary.
a – cross-section; b – plan view.
Fundamental equation:

Laplace transform solution:

This solution is applicable in the following cases:
One well pumped at a constant rate
Pumping
Recovery test
drawdown is measured from the beginning of the pumping test
drawdown is measured from the beginning of the recovery test
The whole test period including pumping /injection/ and recovery stages is analyzed
Several wells pumped at a constant rate
Pumping
One well pumped at a variable rate
Pumping
Several wells with time-variable pumping rates
Pumping