Cooper's solution, Picking's solution for slug test in confined aquifer
Assumptions:
✓aquifer is confined, isotropic, of infinite lateral extent;
✓pumping well is fully penetrating, wellbore storage capacity is included;
✓drawdown is estimated in the pumping well.
a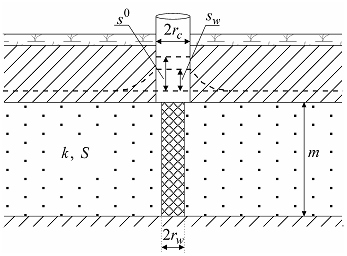 b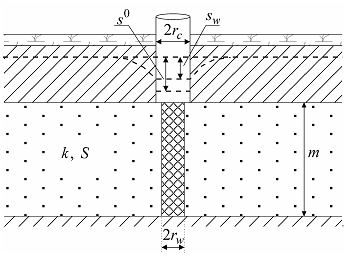 c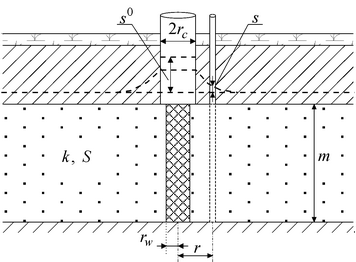 Slug test in confined isotropic aquifer.
a – pouring input of water into the well, b – removal of water out of the well, c – slug test with observation well.
Unsteady-state flow equations
1) Cooper's solution – instantaneous change of initial water level in the well:

Laplace transform solution:


2) Cooper's solution for observation well:


Laplace transform solution:


3) Picking's solution – non-instantaneous change of initial water level (before recovery water has been removed from/injected to the well with a constant rate during the time t0):


Laplace transform solution:


4) Water change level in observation well – non-instantaneous change of initial water level:


Laplace transform solution:




Methods of analysis and parameters being estimated
Plot

Method

Parameters

matching