The "Legend" dialog box allows to create the model legend and assign successive numbers to color-coded classes.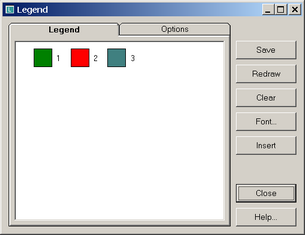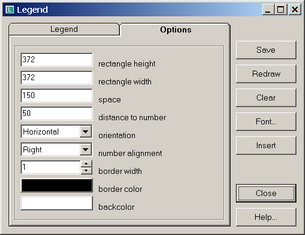 "Legend" dialog boxes.
Explanatory table
"Legend" tab




Dialog for legend displaying and editing

"Options" tab




Managing the legend view




"Rectangle height" text box

Vertical size of the colored rectangle

"Rectangle width" text box

Horizontal size of rectangle of the selected color

"Space" text box

Distance between the rectangles in the legend

"Distance to number" text box

Distance from the rectangle to its explanation number

"Orientation" list box

Selects the horizontal or vertical orientation of the rectangles

"Number alignment" list box

The rectangle number left, right or central alignment

"Border width" text box

Rectangle border width

"Border color" button

Selects the rectangle border color

"Backcolor" button

Selects the "Legend" tab background color

"Save" button




Saves the legend in bmp format

"Redraw" button




Redraws the legend

"Clear" button




Creates new legend. The previous legend is erased

"Font" button




Selects the font for the rectangle number

"Insert" button




Adds a new rectangle having the color of the current block or node
Rectangles in the "Legend" tab are moved by mouse.