The type curve method is can be applied to time-drawdown, time-distance drawdown plots, and, for some conceptual models, to distance-drawdown plots.
When the type curve is displayed, the "Value" floating window opens showing the selected wells (or observation points on distance-drawdown plot) as well as the estimated parameters for the displayed type curve.
Normally, the method is applied to the entire diagnostic curve.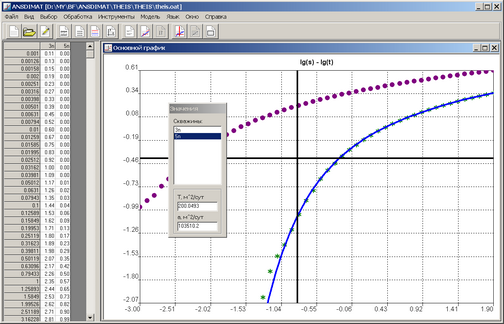 Aquifer test analysis with the method of type curve.
Key functions for type curve method
| | |
| --- | --- |
| LEFT, RIGHT | Moves the type curve left/right |
| UP, DOWN | Moves the type curve up/down |
| "1" | Reduces the step width twice |
| "2" | Increases the step width twice |
| "3" | Resets the initial step width |
| Left click in the plot field | Move the origin of coordinates to the cursor position |
| ENTER | Duplication of the type curve on the plot |
| Select the well in "Value" dialog box | Switches to analysis of the selected well |
| ESC | Exits curve type method analysis |