Use the Model/AMWELLS model/New model to start a new AMWELLS model. A dialog is displayed (shown below) that includes all the parameters to define a new model. These include conceptual scheme, boundary conditions, anisotropy, model dimensions, coordinate origin and static water level.
When you click "Create", a new model will be saved under the name you specify with file extension .atm. It is important that each model is saved in a different file folder.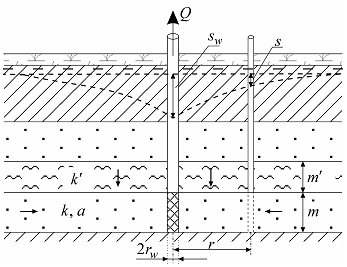 Selection of conceptual scheme consists of two parts:
– Principal conceptual scheme (confined, unconfined, leaky aquifer etc.), and
– Detailed conceptual scheme that specifies further details of the selected principal scheme.
Model thickness refers to the total model thickness. For multilayer aquifer systems, all the aquifers have equal thicknesses with the sum equal to the total model thickness. Use "Model dimensions" tool to change thicknesses of individual aquifers.
Static water level is measured in meters above the model bottom. For an unconfined aquifer, static water level has to be smaller than assigned Model thickness.
Layer settings – location and concepts for individual layers within the leaky aquifer system. The option is enabled for leaky aquifers only.