Method of type curve is applied for time-drawdown, time-distance drawdown plot analysis, and for only few conceptual schemes - for analysis of distance-drawdown plot.
Simultaneously with the type curve, the "Value" supplemental window is displayed showing previously selected wells (or observation points on distance-drawdown plot) as well as parameters estimated by method of type curve.
Normally, the method is applied to the whole diagnostic curve.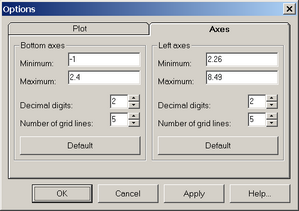 Aquifer test analysis with the method of type curve.
Key functions for type curve method
| | |
| --- | --- |
| LEFT, RIGHT | Move the type curve left/right |
| UP, DOWN | Move the type curve up/down |
| "1" | Twice reduce the step width |
| "2" | Twice increase the step width |
| "3" | Return to the initial step width |
| Click mouse in the plot field | Move the origin of coordinates to the cursor position |
| ENTER | Duplication of the type curve on the plot |
| Select the well in "Value" dialog box | Switch to analysis of the selected well |
| ESC | Escape from the straight-line method analysis |