Two-layer unconfined aquifer
Assumptions:
✓aquifer system consists of two layers with different properties and has infinite lateral extent;
✓overlying aquitard is unconfined, isotropic;
✓underlying aquifer is confined, isotropic;
✓pumping well fully penetrates the aquifer; wellbore storage capacity is neglected;
✓drawdown is estimated in the aquifer at any distance from the pumping well;
✓crossflow in the overlying aquitard is vertical.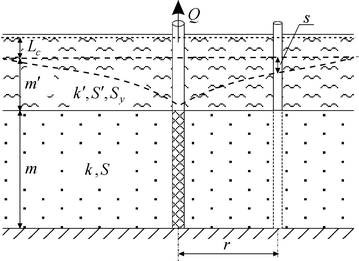 Two-layer unconfined aquifer system (cross section).
Pumping regimes:
One well pumped at a constant rate
Pumping
Recovery
One or several wells pumped at a variable rate
Pumping
References
Мироненко В.А., Сердюков Л.И. Обработка результатов опытных откачек, проведенных в условиях двухслойной толщи // Разведка и охрана недр. 1968. № 10. С. 34–38.
Cooley R.L., Case C.M. Effect of a water table aquitard on drawdown in an underlying pumped aquifer // Water Resources Research. 1973. Vol. 9, N 2. P. 434–447.