The "MODFE postprocessor" and "RADFLOW postprocessor" allow to load MODFE or RADFLOW calculation results, view them in a tabular form and switch to graphic editor for viewing results on the grid.
The dialog box is launched either from the main menu: "Numerical models > MODFE > Postprocessor" and "Numerical models > RADFLOW > Postprocessor" or from the graphic editor.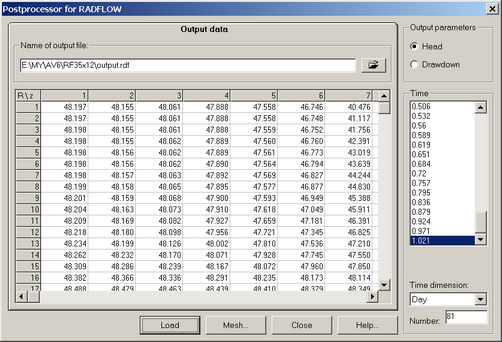 "MODFE postprocessor" dialog box.
Explanatory table
| | |
| --- | --- |
| "Output file name" text box | The name of output file to be downloaded |
| Table | Contains output data for each model node (or block for RADFLOW) at the selected time point (see the "Time" frame) |
| "Output parameters" frame | Selects a parameter from the output file to be displayed in the table or on the grid |
| "Time" frame | Selects the current time to be displayed in the table or on the grid |
| "Time dimension" list box | Selects units (day, hour, min, sec) of time to be displayed in the list |
| "Number" text box | The current time step number |
| "Load" button | Loads data from the output file and display it in a table |
| "Mesh" button" | Switches to the model grid to display tabular data |
| "Close" button | Closes the postprocessor |
Mouse click on "R / z" field in the upper left corner of the table interchanges the position of lines and columns