The dialog box "Create new model" allows creating a MODFE or RADFLOW numerical model. The number of radial blocks and the number of layers are defined in the dialog box. The number of model nodes in each direction for the MODFE model is automatically calculated by the program.
A new RADFLOW model is created in the same way using the menu "Numerical models > RADFLOW > New model", the menu "Numerical models > MODFE > New model" is used for MODFE.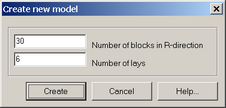 "Create new model" dialog box.
The "Create" button opens the dialog box, where the name of the new model can be defined: the file containing the model data is saved under the same name (the file with mm extension for MODFE and rfm extension for RADFLOW code). Each model must be stored in a separated folder.