Aquifer anisotropic on the vertical plane within leaky aquifer system
Assumptions:
✓aquifer system consists of aquifers interbedded with aquitards;
✓main aquifer is anisotropic on the vertical plane containing pumping well, where drawdown is estimated;
✓adjacent aquifer has a constant water level during the test period;
✓initial water levels in different aquifers can coincide or not;
✓pumping well is located in the main aquifer; its storage capacity is not considered;
✓crossflow in aquitards is vertical;
✓storage of the aquitards is neglected;
✓any aquifer and aquitard configuration for the conceptual scheme of leaky aquifer with constant level in the adjacent aquifer can be considered here.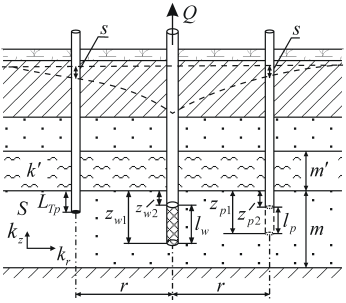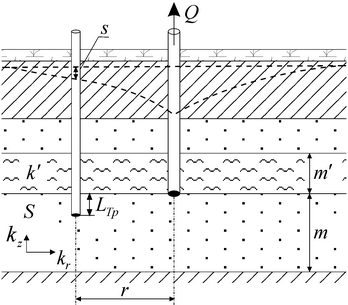 Leaky aquifer anisotropic on the vertical plane.
Pumping regimes:
One well pumped at a constant rate
Pumping
Recovery
One or several wells pumped at a variable rate
Pumping
References
Hantush M.S. Hydraulics of wells // Advances in Hydroscience / Edited by Ven Te Chow. New York; London: Academic Press, 1964. Vol. 1. P. 281–432.
Hantush M.S. Non-steady flow to a well partially penetrating an infinite leaky aquifer // Proceedings of the Iraqi scientific societies. 1957. Vol. 1. P. 10–19.