Aquifer with linear boundary between the two zones
Assumptions:
✓aquifer is confined, isotropic, consisiting of two semi-infinite heterogeneous zones with a common straight boundary;
✓pumping well penetrates the main heterogeneity zone;
✓observation well penetrates the main or adjoining heterogeneous zone;
✓drawdown is estimated in two zones at any distance from the pumping well.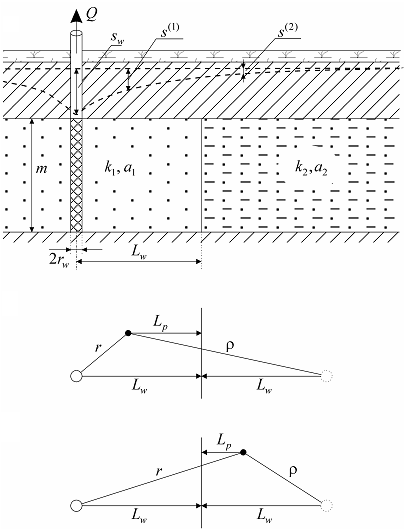 Arealy heterogeneous aquifer with two heterogeneous zones.
a – cross-section, b – plan view, observation well in the main zone; c – plan view, observation well in the adjoining zone.
1 – main heterogeneity zone; 2 – adjoining heterogeneity zone.
Pumping regimes:
One well pumped at a constant rate
Pumping
Recovery
One or several wells pumped at a variable rate
Pumping
References
Максимов В.А. О неустановившемся притоке упругой жидкости к скважинам в неоднородной среде // ПМТФ. 1962. № 3. С. 109–112.
Fenske P.R. Unsteady drawdown in the presence of a linear discontinuity // Groundwater Hydraulics. 1984. N 9. P. 125–145.
Yeh H.-D., Yang S.-Y., Peng H.-Y. A new closed-form solution for a radial two-layer drawdown equation for groundwater under constant-flux pumping in a finite-radius well // Advances in Water Resources. 2003. Vol. 26, N 7. P. 747–757.