Radially heterogeneous aquifer
Assumptions:
✓the aquifer horizontally comprises two zones with different hydraulic parameters and with a common circular boundary;
✓the pumping well is located in the center of the circular zone (wellbore zone), surrounded by the main zone;
✓the observation well is located in the main or wellbore zone;
✓the wellbore storage is taken into account in the drawdown estimation.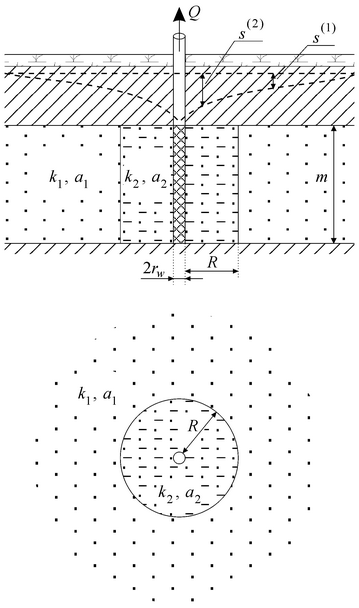 Radially heterogeneous aquifer: cross-section and plan view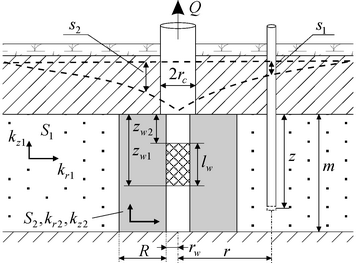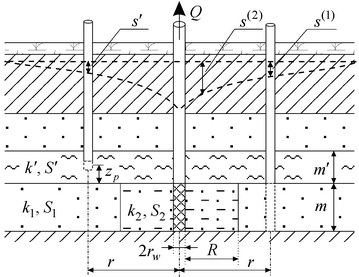 Pumping regimes:
One well pumped at a constant rate
Pumping
Recovery
References
Yeh H.-D., Yang S.-Y., Peng H.-Y. A new closed-form solution for a radial two-layer drawdown equation for groundwater under constant-flux pumping in a finite-radius well // Advances in Water Resources. 2003. Vol. 26, N 7. P. 747–757.
Yeh H.-D., Chen Y.-J., Yang S.-Y. Semi-analytical solution for a slug test in partially penetrating wells including the effect of finite-thickness skin // Hydrol. Process. 2008. Vol. 22. P. 3741–3748.
Yang S.-Y., Yeh H.-D. Radial groundwater flow to a finite diameter well in a leaky confined aquifer with a finite-thickness skin. Hydrol. Process. 2009. Vol. 23, P. 3382–3390.
Butler J.J., Jr. Pumping test in nonuniform aquifers – the radially symmetric case // Journal of Hydrology. 1988. Vol. 101, P. 15–30.