Permeability has dimensions of area: square meters, square centimeters or square feet.
Permeability can also be measured in darcy. One darcy (or 1 D) is equivalent to the permeability of a medium, through which flow velocity is equal 1 cm/s with a pressure difference of 1 atm over 1 cm and a liquid viscosity equal to 1 centipoise (cP).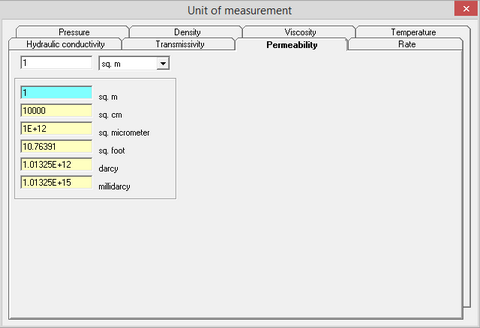 Tab "Permeability" of the dialog window "Unit converter (part 1)"
Conversion table
| | | | | | | |
| --- | --- | --- | --- | --- | --- | --- |
| | m2 | cm2 | μm2 | ft2 | darcy | millidarcy |
| m2 | 1 | 104 | 1012 | 10.764 | 1.013.1012 | 1.013.1015 |
| cm2 | 10-4 | 1 | 108 | 1.076.10-3 | 1.013.108 | 1.013.1011 |
| μm2 | 10-12 | 10-8 | 1 | 1.076.10-11 | 1.013 | 1013.25 |
| ft2 | 9.29.10-2 | 9.29.102 | 9.29.1010 | 1 | 9.41.1010 | 9.41.1013 |
| darcy | 9.87.10-13 | 9.87.10-9 | 0.987 | 1.06.10-11 | 1 | 1000 |
| millidarcy | 9.87.10-16 | 9.87.10-12 | 9.87.10-4 | 1.06.10-14 | 0.001 | 1 |