Drawdown data in observation wells are displayed in the table to the left of the screen (time is displayed in the first column). With Q - t plot loading, rate measurement data for the pumping wells appear in the table, therewith graphical stepwise rate approximation becomes available.
Observation data points can be examined by selecting "Tools > Value" from the menu or using Ctrl+F5.
The cross centers on the current observation point while the corresponding value is highlighted in the data table. The separate "Value" window displays the data associated with the selected observation point and its plot's coordinates. The cross can be moved to another data point by left clicking on the plot area. The well can be selected from the "Value" window. The View mode can be exited by pressing the Esc key.
The View mode also allows for specific data to be temporarily deactivated. The removed measurements are excluded from the inverse problem solution (menu "Analysis > Inverse solution") and are not considered in error minimization for the straight-line method . This can be used to exclude incorrect measurements as well as for analyzing a certain interval of the diagnostic curve.
This mode allows viewing not only factual measurements but also calculated drawdown values at any time point. Use SHIFT button to do it.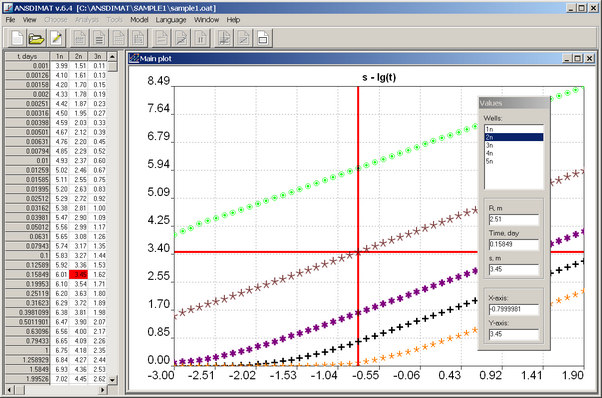 Viewing data on the plot.
Explanatory table to command buttons for data viewing
LEFT, RIGHT

Jumps to the next measurement or to the next well (for distance-drawdown plot)

UP, DOWN

Jumps to the next well or to the next measurement (for distance-drawdown plot)

SHIFT + LEFT,

SHIFT + RIGHT

Jumps to the next calculated value (corresponds to last estimated aquifer parameters)

DEL

Deactivates the selected measurement

INS

Activates the selected measurement, re-activates a deactivated measurement

"+"

Returns all deleted measurement in the current well

SHIFT + DEL

Deactivates the nearest measurement then proceeds down the data series

SHIFT + INS

Reactivates the nearest deactivated measurement then proceeds down the data series

SHIFT + END,

SHIFT + HOME

Reactivates the deactivated observation points from the cross position to the top of the series (home) or the end of the series (end)

CTRL + END,

CTRL + HOME

Deactivates the observation points from the cross position to the top of the series (home) or the end of the series (end)

Mouse click in the plot field

Jumps to the nearest measurement in the current well

SHIFT +click mouse button on the field of the plot

Jumps to the nearest calculated value in the current well (calculate drawdown value corresponding to the last estimated aquifer parameters)

Click mouse button on the field of the table

Auto-jump to the corresponding point on the plot

Choose well in the "Value" window

Jumps to the selected well on the plot

Right click in the "Time" text box of the "Value" window

Opens the time conversion information window

Right click in the first column of the table

ESC

Exits the data view mode